EASB and NATAS have formed a strategic partnership on 17 October 2017 to improve and upgrade relevant skills in the travel industry.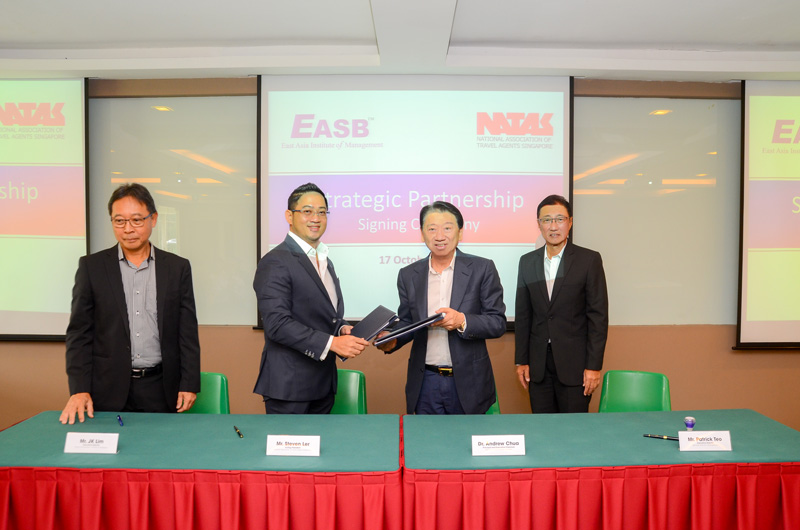 The signing ceremony took place at EASB campus, where Dr Andrew Chua, Principal and Executive Director of EASB, and Mr Steven Ler, Acting President of NATAS, were both on hand to formalise the agreement. The joint partnership will see EASB acquire the major shareholding in Tourism Management Institute of Singapore (TMIS), NATAS' training arm. TMIS will be relocated to the EASB Campus on 1 November 2017.
Dr Andrew Chua noted that this partnership is both timely and synergistic by bringing together a premier PEI (Private Education Institution) and an industry association committed to upgrading the industry-relevant skills and capabilities of tourism and travel-related sector manpower.
"…We want to ensure that through the re-structured TMIS, our travel and tourism courses, programmes and workshops will empower industry employees to stay skills-relevant, innovative and productive throughout their working life", commented Dr Chua.
The National Association of Travel Agents Singapore (NATAS) is an industry-led organisation representing the travel agents in Singapore. As the voice of the industry, NATAS supports and spearheads education and training, and it aims to strive for travel excellence by setting and regulating standards of professionalism and ethical conduct of its members.
NATAS aims to promote and foster goodwill, co-operation and understanding not only within the local community, but also with its counterparts in the region and the rest of the world.